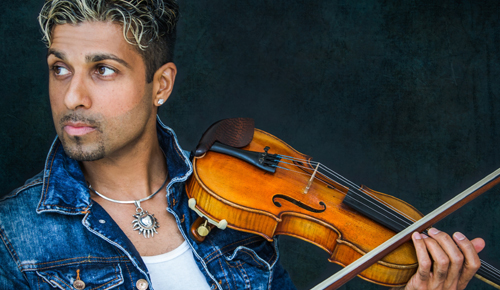 Grenville was born in Hamilton, Ontario in a musical family. His mother plays and teaches piano and his father is a singer. His two sisters are professional pianists who have accompanied him on numerous occasions.]Grenville attended McMaster University in Hamilton where he received his bachelor's degree in commerce.
Grenville is a classically trained musician who studied music at the Royal Conservatory of Music, Toronto. He has been playing violin since the age of seven and has performed for thousands of events. He has shared concert stages with many artists including two time Juno award winner singer/songwriter Serena Ryder, tenor Michael Ciufo, instrumentalist Pavlo, international pops symphony singer Sarah Pacheco, and many others. He has performed across North America for special events and in numerous concerts including various TEDx events, he has also appeared on various national television shows including Rich Bride Poor Bride and 100 Huntley Street.
Here's Generation Next's interview with Grenville:
 Please tell us a bit about your academic/family background?
I was born in Hamilton. Studied music under The Royal Conservatory of Music. Also, earned a Hons. Bachelor of Commerce Degree from McMaster University.
 Why be in the arts?
I love music. I turned a hobby into a career. It evolved with some life events that eventually opened doors for me. Music is my passion.
 What is it for you? American music or Indian music?
More American music first. I was born in Hamilton and was exposed to Western radio stations. As I catered to other nationalities including my own, I learned Indian music – which I found to be very beautiful/melodic music.
 Why do you think many modern songs & music videos are not like evergreen songs & music videos of the past?
A lot of modern music is quick to be produced. Use of computers, etc – dehumanizes music and sounds too mechanical. The music industry has changed as well. Albums, vinyl, CD's gave the listener a chance to 'sink their teeth' into the music and artist. Now, the electronic file gets lost in the playlist.
 Do you believe art is for entertainment or for social awareness? One can argue that with so much disturbance in life, people would like to enjoy art for relaxation purpose only.
I think it is primarily for entertainment. If it can make a difference for social awareness – then it can and maybe even should be used (e.g. USA for Africa, BandAid) but must be handled very carefully, so it does not jeopardize the music message from the artist.
 What's your family's reaction to your profession choice?
They are very proud of what I have accomplished. However, there was some doubt when I was first pursuing.
 Is it a profession where you can make money?
Yes
 Do good looks matter? Do they get you into the door?
I think image is quite important. The audience has other senses other than listening that are being used during a performance that help connect.
 How do you keep yourself fit?
Exercise activities. Healthy eating. Visit a naturopath regularly.
 How much time do you spend on social media?
More than I probably realize! It's important but must be managed well – so valuable time is not lost and the right marketing mix is achieved
 What kind of pressures do you feel as a professional?
Re-inventing myself. Staying fresh. Balancing work and personal life.
 Is the industry different for men vs. women?
I think it's equal opportunity for all.
 How much pressure do you feel to maintain a certain figure and looks?
There may be pressure – but I don't feel it. I like to look after myself and balance my health and image. I lost my mother to bad health/diet – and I don't want to go the same way.
 What and who do you turn to when depressed?
Music, family
 Where do you see yourself in ten years?
Doing music…anything music-related!
 What would you like to change in the world. Do you associate yourself with any charities?
I wish there was access to better food (on a regular basis) in this part of the world. There is a constant battle/struggle for money at the expense of heath. It's a complicated and corrupted economic/food/health system. Some of it necessary unfortunately however in order to make the west an economic superpower. I associate myself with The Arthritis Society – my mother suffered with rheumatoid arthritis for 40 years.
 Your favourite male artist
Lionel Richie, Sting
 Your favourite female artist
Madonna
 What are you currently working on, and what's coming up in the future?
Working on a Christmas concert, a new album and a concert next year. Stay posted at www.GPinto.com