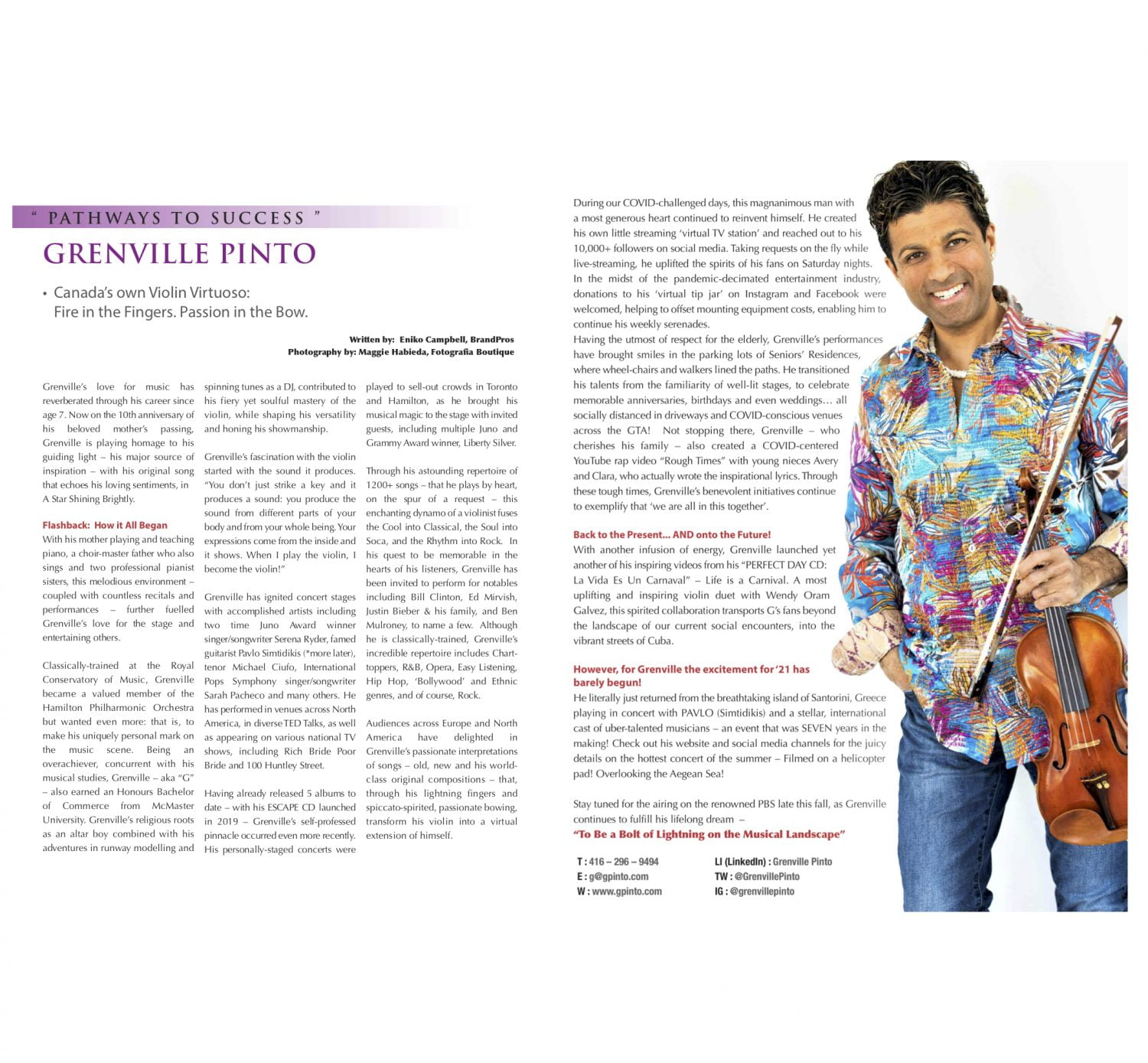 Grenville's love for music has reverberated through his career since age 7. Now on the 10th anniversary of his beloved mother's passing, Grenville is playing homage to his guiding light – his major source of inspiration – with his original song that echoes his loving sentiments, in A Star Shining Brightly.
Flashback: How it All Began
With his mother playing and teaching piano, a choir-master father who also sings and two professional pianist sisters, this melodious environment – coupled with countless recitals and performances – further fuelled Grenville's love for the stage and entertaining others.
Classically-trained at the Royal Conservatory of Music, Grenville became a valued member of the Hamilton Philharmonic Orchestra but wanted even more: that is, to make his uniquely personal mark on the music scene. Being an overachiever, concurrent with his musical studies, Grenville – aka "G" – also earned an Honours Bachelor of Commerce from McMaster University. Grenville's religious roots as an altar boy combined with his adventures in runway modelling and spinning tunes as a DJ, contributed to his fiery yet soulful mastery of the violin, while shaping his versatility and honing his showmanship.
Grenville's fascination with the violin started with the sound it produces. "You don't just strike a key and it produces a sound: you produce the sound from different parts of your body and from your whole being. Your expressions come from the inside and it shows. When I play the violin, I become the violin!"
Grenville has ignited concert stages with accomplished artists including two time Juno Award winner singer/songwriter Serena Ryder, famed guitarist Pavlo Simtidikis (*more later), tenor Michael Ciufo, International Pops Symphony singer/songwriter Sarah Pacheco and many others. He has performed in venues across North America, in diverse TED Talks, as well as appearing on various national TV shows, including Rich Bride Poor Bride and 100 Huntley Street.
Having already released 5 albums to date – with his ESCAPE CD launched in 2019 – Grenville's self-professed pinnacle occurred even more recently. His personally-staged concerts were played to sell-out crowds in Toronto and Hamilton, as he brought his musical magic to the stage with invited guests, including multiple Juno and Grammy Award winner, Liberty Silver.
Through his astounding repertoire of 1200+ songs – that he plays by heart, on the spur of a request – this enchanting dynamo of a violinist fuses the Cool into Classical, the Soul into Soca, and the Rhythm into Rock. In his quest to be memorable in the hearts of his listeners, Grenville has been invited to perform for notables including Bill Clinton, Ed Mirvish, Justin Bieber & his family, and Ben Mulroney, to name a few. Although he is classically-trained, Grenville's incredible repertoire includes Chart- toppers, R&B, Opera, Easy Listening, Hip Hop, 'Bollywood' and Ethnic genres, and of course, Rock.
Audiences across Europe and North America have delighted in Grenville's passionate interpretations of songs – old, new and his world- class original compositions – that, through his lightning fingers and spiccato-spirited, passionate bowing, transform his violin into a virtual extension of himself.
During our COVID-challenged days, this magnanimous man with a most generous heart continued to reinvent himself. He created his own little streaming 'virtual TV station' and reached out to his 10,000+ followers on social media. Taking requests on the fly while live-streaming, he uplifted the spirits of his fans on Saturday nights.
In the midst of the pandemic-decimated entertainment industry, donations to his 'virtual tip jar' on Instagram and Facebook were welcomed, helping to offset mounting equipment costs, enabling him to continue his weekly serenades.
Having the utmost of respect for the elderly, Grenville's performances have brought smiles in the parking lots of Seniors' Residences, where wheel-chairs and walkers lined the paths. He transitioned
his talents from the familiarity of well-lit stages, to celebrate memorable  anniversaries, birthdays and even weddings… all socially distanced in driveways and COVID-conscious venues
across the GTA! Not stopping there, Grenville – who cherishes his family – also created a COVID-centered YouTube rap video "Rough Times" with young nieces Avery and Clara, who actually wrote the inspirational lyrics. Through these tough times, Grenville's benevolent initiatives continue to exemplify that 'we are all in this together'.
Back to the Present… AND onto the Future!
With another infusion of energy, Grenville launched yet another of his inspiring videos from his "PERFECT DAY CD: La Vida Es Un Carnaval" – Life is a Carnival. A most uplifting and inspiring violin duet with Wendy Oram Galvez, this spirited collaboration transports G's fans beyond the landscape of our current social encounters, into the vibrant streets of Cuba.
However, for Grenville the excitement for '21 has barely begun!
He literally just returned from the breathtaking island of Santorini, Greece playing in concert with PAVLO (Simtikidis) and a stellar, international cast of uber-talented musicians – an event that was SEVEN years in the making! Check out his website and social media channels for the juicy details on the hottest concert of the summer – Filmed on a helicopter pad! Overlooking the Aegean Sea!
Stay tuned for the airing on the renowned PBS late this fall, as Grenville continues to fulfill his lifelong dream –
"To Be a Bolt of Lightning on the Musical Landscape"
Written by: Eniko Campbell, BrandPros
Photography by: Maggie Habieda, Fotografia Boutique